In June we organised eleven team development events, from one full training day with several methods to a combination of four events over 9 days. We had adventures in Tallinn and Harjumaa, in wonderful Ida-Virumaa, and we made a quick trip to the archipelago of Southern Finland. And somehow it all fit into three weeks, so that there would be time to celebrate Midsummer – an important summer holiday in the Nordics!
WHY:
For engaged teams changing the world
WHAT:
Human Bingo, Global Innovation Game, Go Team, Knowing Me Knowing You – Work Styes, IBuild, Networth, Chain Reaction TableTop, Beat the Box
WHERE:
Museum of Coastal Folk, Küla Villa Harjumaa, Pangodi South-Estonia, Alutaguse Ida-Virumaa, Kadrioru park Tallinn, Ravintola Saari Helsinki, Zoom!
WHO:
nearly 560 participants from seven organizations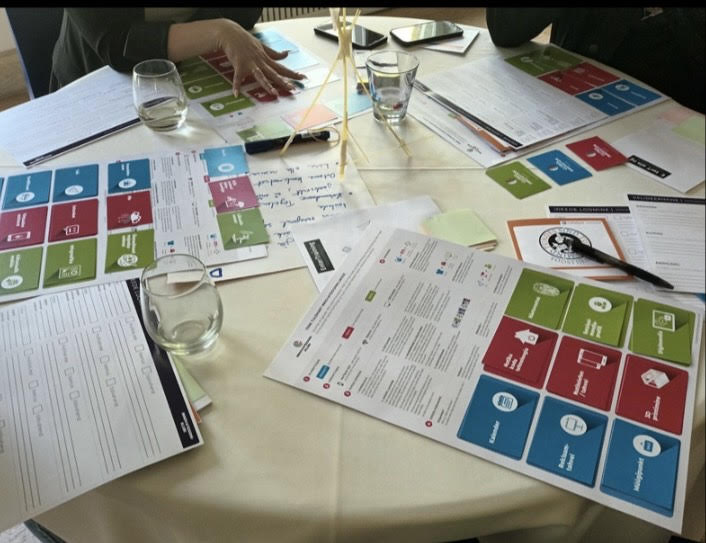 We had our 1st event in June on June 1st with the youthful team of Postimees Group in Viimsi. To start off the training event, the participants got to know each other's interests, hobbies and fun childhood stories during Team Human Bingo. Next, ways of working with their differences and similarities were uncovered using the Workstyles method. We then discussed the possibility and necessity of innovation in a strong team while playing the Global Innovation Game. The training day ended with an adventurous treasure hunt in Viimsi to get to know local stories and test the teams' collaboration skills.
June continued with online events: we supported the "Work In Tech" project run by Smartwork in Estonia by introducing participants to the etiquette of screen presence. As large parts of work and communication has moved online, we often have to present ourselves and our ideas on screen, both when applying for a job and when already at work. Therefore, it is worth thinking about how we are seen and what impressions we leave, as well as what others see and hear through the screen. We are especially happy for the encouraging feedback, such as Karin's comment after the event: "Very good presentation of the topic and a great speaker. It was a joy to listen to everything. Very good energy! :)"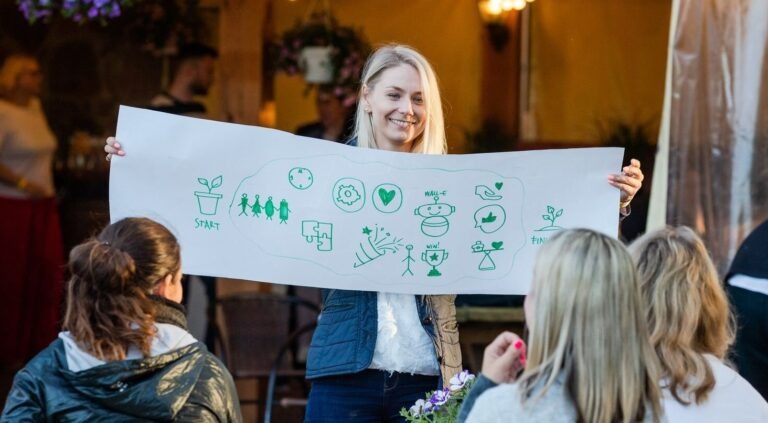 This good energy continued, and we were able to introduce two new methods of team development at two very inspiring meetings! First of all, we used visual storytelling at Estonia's first HR inspiration festival, where the participants could use visuals to present their journey so far and jointly create a vision of the future, where everything runs so smoothly that HR people can just rest under a palm tree. While this seemed like an impossible mission for some teams, some participants found creative ways to reduce their own roles. The new leadership generation is really here!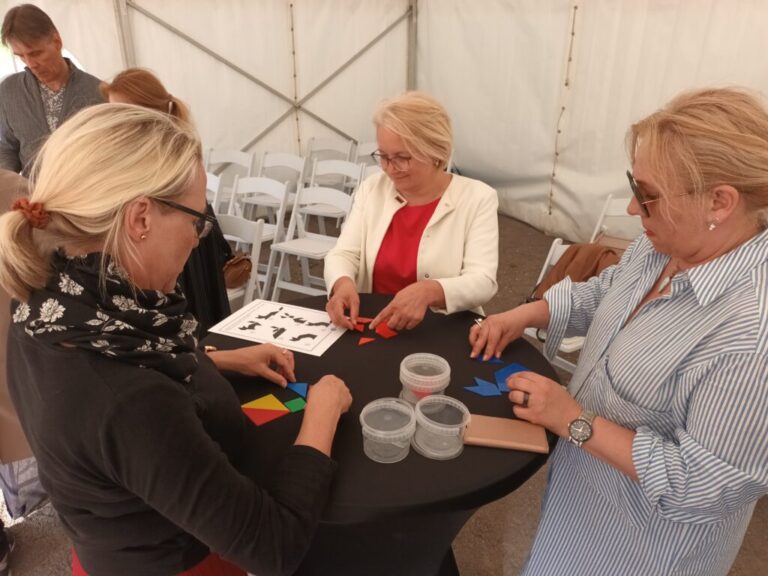 Then, celebrating the end of the PARE season in the beautiful Kadriori Park, we tested our ability to think differently by solving tangram puzzles and creating completely new perspectives! Tangram gives a wonderful opportunity to think both divergently and convergently. If convergent thinking helps us solve tasks with one correct answer, divergent thinking can be more useful when solving problems in everyday life. In the case of the latter, there may not be a single right answer. By creating different connections and looking at the question from several angles, unique and inventive ideas emerge. A tangram puzzle allows for both kinds onf thinking: the pieces can be assembled back into the square from which they were cut, or used to create an image of a cat, submarine or a colleague instead. A fun brainstorming session that's perfect for ending the event season in PARE as well as starting a brainstorming session at your next strategy meeting!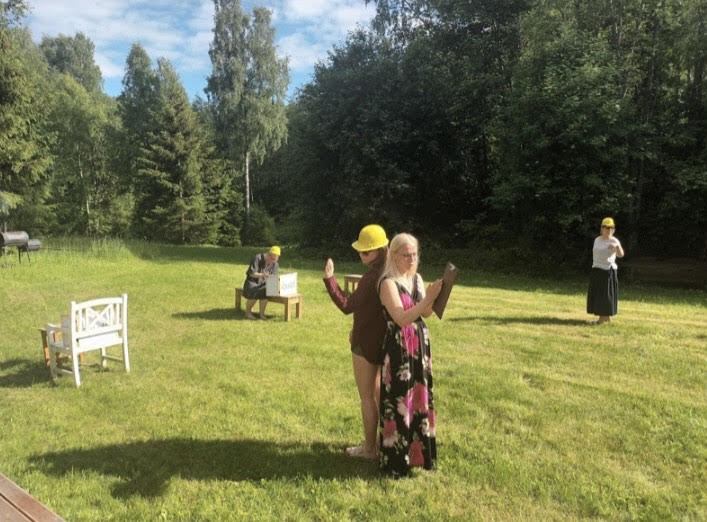 We helped the bullying-free school team integrate a new team member and prepare the whole team for the summer. Our own Networth method helped emphasize the value of quality contacts and mutual understanding in team communication contexts. To promote communication, we continued with one of our favorite methods from our good colleagues in Switzerland: ibuild.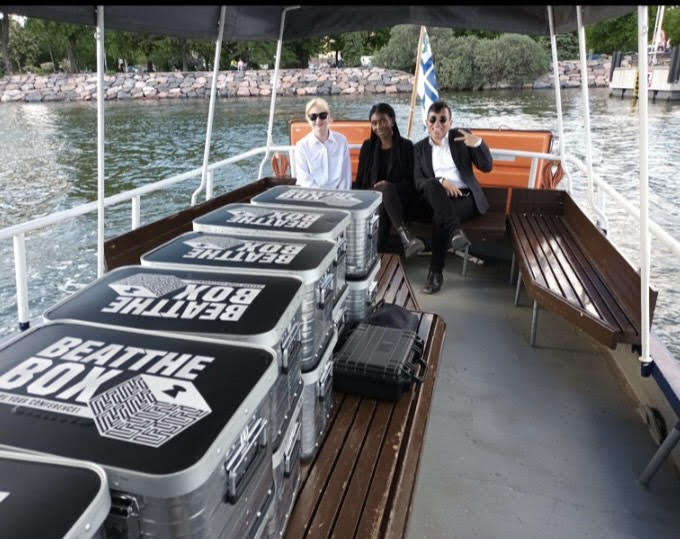 We also had the great privilege to help out our Finnish colleagues with a nice Beat the Box game in a cool restaurant located on a tiny island next to Helsinki. While a large ferry is a frequent means of transport for trips back and forth, this tiny ferry was quite a unique ride! Among our favourite Catalyst teambuilding activities, Beat the Box is definitely in top three when it is important to create a sense of collaboration and belonging in the team and reduce competitiveness.
While there was a lot of travelling in June, we most fequently visited Alutaguse sports and recreation centre in Ida-Virumaa. If the team is large and not everyone can get together at the same time, it may happen that different sections of the team gather for a similar event as many as four times! This is exactly what we did for the Enefit Power team at Alutaguse: on one rainy day, we created a fun Chain Reaction, and three sunny days took us out on an engaging Go Team treasure hunt, where, in addition to exciting thought exercises, participants could find a local tree dog and learn about adventure trails and disc golf in the area. Not to mention the team getting to know each other better.
If you are still thinking of getting your team together for an event, get in touch! There are ideas for inspiration here, as well as on our seasonal events page. Or reach out directly at info@entertraining.ee to start putting a plan in place. Summer here lasts until September!